Made some good progress this week on the kitbashed Master of the Forge/Techmarine on bike. I used a number of pieces from a Fabius Bile model I traded for a few months ago. Three of the servo armos on the harness come from Bile, and the remaining one comes from some leftovers from my Techmarine in servo harness kit from some years ago. I also started to put together a conversion beamer that I was planning to magnetize onto the back of the bike.
Unfortunately, once I glued the backpack on, it became clear that the conversion beamer turret wasn't going to fit on the back of the bike. For a while I thought I'd just figure out another way to make it work, but that wasn't looking like it was going to pan out, so I pried the backpack off with its half-dried glue. I'm going to have to magnetize his backpack and magnetize the turret, since they won't both fit. He might look a little weird with no backpack on while the turret is there, so I'm trying to decide if I'll magnetize another backpack for him.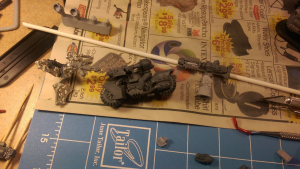 The lighting in my work room sucks for taking pictures. Conversion beamer's on the right, but you can't see how cool it is in this picture; I'm really happy with how it came out.